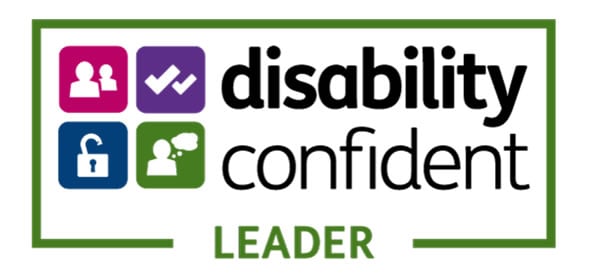 At RBLI we offer a wide range of support to people with disabilities, including support to help people enter and stay in work. We are determined to help reduce the disability employment gap and support other organisations to do so also. We do this through our advocacy work and sharing best practice of the support we provide every day to our own employees.
We are proud to be recognised as a Disability Confident Leader. This accreditation by the Department of Work and Pensions (DWP) means that we:
Actively look to attract and recruit disabled people
Provide a fully inclusive and accessible recruitment process
Offer interviews to disabled people who meet the minimum criteria for the job
Are flexible when assessing people so disabled job applicants have the best opportunity to demonstrate that they can do the job
Make reasonable adjustments as required
Encourage our suppliers and partner firms to be Disability Confident
Ensure employees have sufficient disability equality awareness.
More information about Disability Confident, and what it means for you as a candidate, can be found on the GOV.UK website.
As a Disability Confident Leader we guarantee to interview disabled applicants who meet the minimum criteria for our advertised roles. If you consider yourself to have a disability and would like to apply for one of our vacancies under our disability confident scheme then please submit your application to [email protected]
Alternatively should you need additional support or any reasonable adjustments to support you in applying for any of our roles please email [email protected] or call 01622 795917